Window Replacement Buying Guide
How to Choose Replacement Windows
How We Test
To find out which windows are best at keeping your home comfortable and dry, we tested double-hung windows for resistance to wind and rain. (We don't test single-hung windows because they're less common.) Working with an outside lab, we subjected the windows to heavy, wind-driven rain, and winds of 25 and 50 mph at outdoor temperatures of 0°F and 70°F. We found significant differences among brands.
Do not DIY!
Your window replacement is definitely not a project for practicing your DIY skills. While you may be fully skilled in handling and doing home improvement tasks, you never know what might happen. However, a professional does. So it's always best to consult an expert contractor.
Get the right fit.
If you choose Window Broker, Windows to handle your window replacement, your windows are sure be in the right size. We don't use "closet fit" premade windows. Instead, we measure them to know the precise dimensions of the replacement windows to 1/8th of an inch.
Choose an energy-efficient window.
This will help you save on your energy bill over time as it improves the overall temperature and circulation in your home. Energy-efficient windows can help reduce your use of heating and cooling units.
Key Points
For a low-maintenance window, select a vinyl window frame instead of wood. If you love the look of wood windows, consider a window with woodgrain laminate over vinyl.
Think about the type of cabinet hardware, lighting fixtures and other features of your home. Look for windows that have locks that can match those features, such as brushed nickel, brass or oil-rubbed bronze.
Consider choosing tilt-in windows for easy cleaning of the glass from the inside of the home.close
Seek out manufacturers with warranties that cover the frame, sash and insulating glass units of the window.
Educate yourself on energy efficiency features of windows. Look for windows with Low E glass and fusion-welded vinyl corners. Gas-filled, double-paned windows will help cut down on heating and cooling costs. Select windows meeting Energy Star guidelines for your area.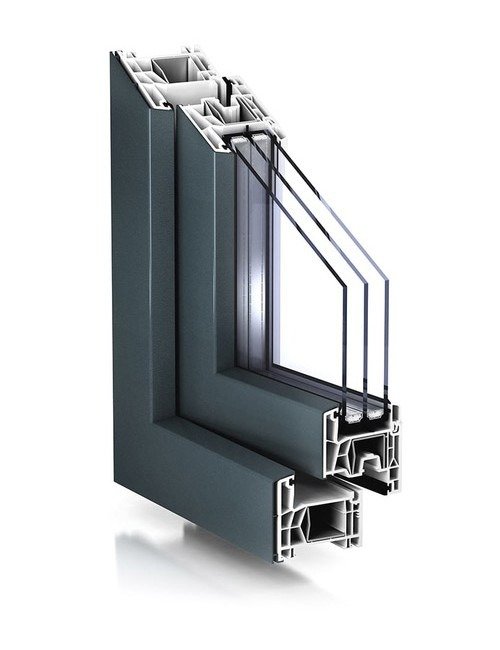 Consider glass options. Not all glass is the same. Just as you have choices on Low E or gas-filled glass packages to maximize energy efficiency in your home, you have choices on the type of glass. Selections include clear glass, tempered, tinted (generally available in bronze or grey) or obscure glass.
. Consider your surroundings. If you live in an area prone to severe storms, on a golf course or even in a noisy downtown area, then impact-resistant glass is a smart investment because it is extremely difficult to penetrate. Check with your insurance company to see if it offers discounts if you install impact-resistant windows in your home.
If you live around active children, consider ordering windows with laminated safety glass—at least for the first floor of the home. Two panes of glass are adhered to a durable plastic inner layer. If a stray baseball hits a window, the glass will shatter, but broken pieces remain adhered to the inner layer, preventing glass fallout inside the home. The plastic inner layer is also puncture-resistant, frustrating potential intruders.
If you currently hear too much outside noise—overhead planes, traffic, railroads—request laminated or impact-resistant glass in your replacement windows to reduce noise penetration into your home.
Review grid options. Many builders suggest standard white Colonial grid patterns. However, window manufacturers offer everything from brass to dark zinc as grid options.
Window Styles
Double-Hung Windows
A widely used choice. The lower inside sash slides up, and an upper outside sash slides down, improving air circulation and making full screens ideal.
Double-hung windows are easy to clean because you can tilt the sash on any of the windows in our tests. They're also a smart choice if you plan to install a window air conditioner, though most now have a fairly high trim on the sill that may require significant shimming to stabilize the air conditioner.
Some double-hung windows in our tests are better than others at keeping out cold air or water. That's important if you live in a place where it's chilly and windy, such as Ottawa Ontario.
Awning-Style Windows

They're hinged at the top and open outward. Like casements, the sash presses against the frame, so they close very tightly.
Casement-Style Windows
Though a smaller part of the market, they provide an unobstructed view. They're hinged on one side, and a crank lets you open them outward. When fully open, casements allow good ventilation and easy cleaning. They're usually more airtight than double-hung because when closed the sash locks tightly against the frame. However, window air conditioners cannot be installed in casement windows.
Fixed Windows
These are used where lighting but not ventilation is important. They're airtight and are available with decorative glass accents or in unusual shapes.
Hopper-Style Windows
The opposite of awning windows, they're hinged at the bottom and can open either inward or outward.
Single-Hung Windows
They look like double-hung, but only the bottom sash moves. (They usually cost less as a result.) The top sash is sealed to keep cold air and water out.
are associated historically with mansions of the early English Renaissance. They are characteristically employed at the end of a great hall opposite the entrance and behind the raised dais on which the lord of the manor was served.
[TheChamp-Sharing]